La consultation du livre de 711 pages "L'apprentissage du billard français – jeux de série" est accessible, en E-Book, uniquement en ligne, dans votre abonnement à la plateforme E-Learning.
En plus du livre de 711 pages, E-Learning vous donne accès à 233 vidéos commentées, soit plus de 176 heures de formation en ligne. Vous bénéficiez également d'un coaching illimité par mail.
Apprenez le billard et les jeux de série en ligne avec E-Learning !
Si vous souhaitez travailler et vous entraîner avec le livre, l'imprimer, le télécharger sur plusieurs support, vous pouvez acheter le fichier PDF disponible ci-dessous, valable en français, espagnol et anglais :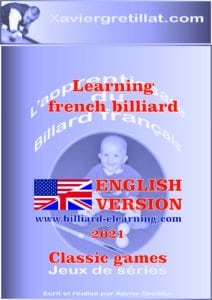 « L'apprentissage du billard français – Jeux de série »
Livre de 711 pages, avec 730 photos et 1'000 dessins. Cet ouvrage est divisé en 4 parties principales :
– Technique
– Conception
– Psychologie
– Entraînement
Dernière version du livre, qualité d'image optimale, table des matières avec signets, paginé et structuré. Le livre est vendu en fichier PDF sécurisé.
En français, en anglais et en espagnol.

Merci de spécifier la langue lors de la commande et de lire les conditions de ventes.
Conditions de vente / Condiciones de venta / Conditions of sale

Le livre est personnalisé manuellement avec votre nom et votre numéro. Il est interdit de copier, publier, diffuser vendre tout ou partie de ce livre. Le format du livre est un PDF sécurisé. Les fichiers PDF sont transmis de manière électronique uniquement. Votre commande ne sera effective que lorsque le paiement sera validé. Les commandes seront enregistrées et livrées dans l'ordre d'arrivée, dans un délai raisonnable de 1 à 5 jours.

El libro se personaliza manualmente con su nombre y número. Está prohibido copiar, publicar, distribuir, vender todo o parte de este libro. El formato del libro es un PDF seguro. Los archivos PDF sólo se transmiten electrónicamente. Su pedido será efectivo sólo cuando el pago sea validado. Las órdenes se registrarán y se entregarán en el orden de llegada, en un plazo razonable de 1 a 5 días.

The book is manually personalised with your name and number. It is forbidden to copy, publish, distribute, sell all or part of this book. The format of the book is a secure PDF. PDF files are transmitted electronically only. Your order will only be effective once the payment has been validated. Orders will be recorded and delivered in the order of arrival, within a reasonable period of 1 to 5 days.
The translation of this book was made possible thanks to the technological prowess of Deepl who managed to translate my entire book while respecting all the diagrams, photos and layouts. Then I went back to the page by page, over a year of work, and I started from a very simple principle… if I understand myself what I read, then the reader will understand too!
The aim was just to make my book understandable to as many people as possible and therefore to English speakers. So to the purists and lovers of beautiful sentences, please forgive the countless errors in syntax, vocabulary and grammar! No need to write to me to complain, the terms of sale are clear about the type of product sold.
Words used in the billiard world sometimes have several translations since the English-speaking world uses several words to mean the same thing… like the French word "effet" translated by "effect, side-effect, side-spin, english"… I am sure that this phenomenon will not disturb the good understanding of the text.
Some diagrams have explanatory words that have not been translated. They are however generic enough to list them here and help you understand them.
Moreover, if you do not understand something, because of a bad translation or a bad expression of its author, do not hesitate to write me. I remain at your disposal for any questions at xavier@xaviergretillat.com.