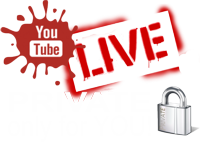 PRIVATE LIVE – ONLY FOR YOU
Wherever you are, learn in Live with me !
DIRECT PRIVE – SEULEMENT POUR VOUS
Où que vous soyez, apprenez en Direct avec moi !

Do you want a distance learning course, through a private Live, only for yourself? Or with friends? Or with members of your association?
You would like the content you decide, with all the comments and explanations, all the answers to your questions in Live?
Now it's possible ! Wherever you are, you just need internet connection !
If you want a private Live, send me a message for more informations with this formular !
Vous aimeriez un cours à distance, grâce à un Live privé, pour vous tout seul ? Ou avec vos amis ? Ou avec les membres de votre association ?
Vous aimeriez avoir le contenu que vous décidez, avec tous les commentaires et les explications, toutes les réponses à vos questions en Direct ?
Désormais c'est possible ! Où que vous soyez, vous avez juste besoin d'une connection internet !
Si vous voulez un Direct privé, faites-moi parvenir un message pour plus d'informations avec ce formulaire !